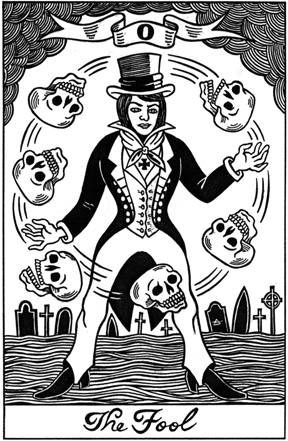 15 PAINTED CARDS FROM A VAMPIRE TAROT
$30.00 per set.
Includes tarot card and 5ml bottle of perfume.


Black Phoenix Alchemy Lab is proud to present a scent and art series based on Neil Gaiman's short story, "15 Painted Cards from a Vampire Tarot."

Each package comes with a 5ml bottle of perfume inspired by the tale and a corresponding tarot card, created by Madame Talbot.

The Fool premiered at San Diego Comic Con 2009 through the CBLDF, along with a Limited Edition variant of the Fool, created by Alicia Dabney.

T-shirts featuring Madame Talbot's artwork for the series are available through Black Phoenix Trading Post.

This is a charitable, not-for-profit venture: proceeds from every single set and tee go to the Comic Book Legal Defense Fund, which works to preserve the First Amendment rights of the comic community.

Neil Gaiman
The Comic Book Legal Defense Fund
Madame Talbot's Victorian Lowbrow




O. THE FOOL
He had stepped over the precipice. There was no going back. In his imagination, he could already feel the prick of needle-sharp fangs in his neck, a sharp prelude to eternal life.

The sound began. It was low and sad, like the rushing of an underground river. It took him several long seconds to recognize it as laughter.

"This is not life," said the voice.

It said nothing more, and after a while the young man knew he was alone in the graveyard.

Apple blossom, peppermint, allspice, and yellow sandalwood speckled with grave loam and clods of grave dirt.
.purchase 5ml.
.view cart / check out.


I. THE MAGICIAN
They asked St. Germain's manservant if his master was truly a thousand years old, as it was rumored he had claimed.

"How would I know?" the man replied. "I have only been in the master's employ for three hundred years."

Burmese rosewood, olibanum, benzoin, turmeric, currant leaf, and oude.
.purchase 5ml.
.view cart / check out.




II. THE PRIESTESS
Her skin was pale, and her eyes were dark, and her hair was dyed black. She went on a daytime talk show and proclaimed herself a vampire queen. She showed the cameras her dentally crafted fangs, and brought on ex-lovers who, in various stages of embarrassment, admitted that she had drawn their blood, and that she drank it.

"You can be seen in a mirror, though?" asked the talk show hostess.

She was the richest woman in America, and had got that way by bringing the freaks and the hurt and the lost out in front of her cameras and showing their pain to the world.

The studio audience laughed.

The woman seemed slightly affronted. "Yes. Contrary to what people may think, vampires can be seen in mirrors and on television cameras."

"Well, that's one thing you finally got right, honey," said the hostess of the daytime talk show. But she put her hand over her microphone as she said it, and it was never broadcast.

White sandalwood, life everlasting, nicotiana, iris pallida, and juniper berry.
.purchase 5ml.
.view cart / check out.




VI. THE LOVERS
After she was dead, she began to come to him in the night. He grew pale, and there were deep circles under his eyes. At first, they thought he was mourning her. And then, one night, he was gone.

It was hard for them to obtain permission to disinter her, but they got it. They hauled up the coffin and unscrewed the lid. Then they prized what they found out of the box. There was six inches of water in the bottom, the iron had colored it a deep, orangish red. There were two bodies in the coffin: hers, of course, and his. He was more decayed than she was.

Later, someone wondered aloud how both of them had fitted in a coffin built for one. Especially given her condition, he said; for she was very obviously very pregnant.

This caused some confusion, for she had not been noticeably pregnant when she was buried.

Still later they dug up her got one last time, at the request of the church authorities, who had heard rumors of what had been found in the grave. Her stomach was flat. The local doctor told them all that it had just been gas and bloating as the stomach swelled, The townsfolk nodded, almost as if they believed him.

Black Phoenix's most disquieting scent: baby's breath and upturned soil.
.purchase 5ml.
.view cart / check out.



Vampire Tarot companion tees available from
Black Phoenix Trading Post..