She walked up the steps and out into the middle of the stage, the sack held behind her, and turned to face the crowd.

"My name is Pandora Atheneus Andromaeche Helena, daughter of the House…the great House of Prometheus."

She heard a few whispers and a loud hoot.

"You all know the story," she plunged on, "of how my father stole fire from Zeus and brought it down to earth so that mankind could be warm and safe. And you know of my father's horrible punishment. But there was a second part to his punishment that you do not know about. Something that my father never talks about because it is so terrible that many of you will…faint. And because that's just my dad."

Several girls stopped whispering.

"Zeus gave my father a box containing," she paused, "all of the misery of the world."

The teachers began staring at her strangely.

"Each of the great Olympians put something really bad into the box and they gave it to my dad for safekeeping. If the box is ever opened, plagues of every kind will…will…fly out and torment each of you for the rest of your lives. Your skin will bubble. Your hair will fall out. Wild beasts will eat you in your sleep. It will hail everyday and there will be lots of floods. And, there will be nothing you can do but cry and beseech the gods. Nothing!"

In one swift motion she brought the sack out from behind her back, withdrew the box and lifted it high over her head.

"And they're all in here!"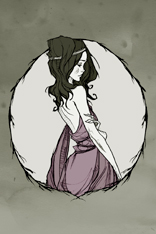 IOLE
The newcomer. The brains. Pensive and thoughtful. Small and frail, even now Iole sometimes can't keep up as Pandy and Alcie stride through the market place or the olive orchards or swim in nearby lakes and rivers. But…but…she's smart as a whip; often using big words when she speaks; not to show off, but only because her mighty mind can't come up with anything smaller. Will gladly tutor in algebra and calculus!

A serious, studious scent: fig, night-blooming jasmine, red sandalwood, bourbon vanilla, oak bark, leather accord, and black amber.
.purchase 5ml.
.view cart / check out.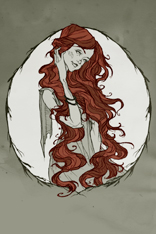 ALCIE
Sassy. Impetuous. Loyal. Alcestis Artemisia Medusa, with her red hair and brown-green eyes, is prettier than most and is having a much easier time with all the "maiden stuff." Alcie's father, a wealthy man, buys all the latest toga clasps, hair irons and ankle bracelets for his daughter, so she's always rather lovely. However, Alcie is also a distant niece of the great Gorgon Medusa, a creature so hideous that anyone who looked into its eyes would immediately turn to stone. A young hero, Perseus, had cut off Medusa's head some years earlier, so at least all the relatives didn't have to worry about Medusa showing up for feast days, but Alcie was still embarrassed by the blot on the family name.

Just a hint of gorgon blood: bright nectarine, honey, sandalwood, green musk, sea buckthorn berry, and oakmoss.
.purchase 5ml.
.view cart / check out.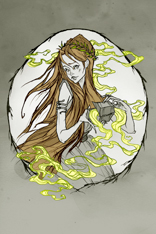 PANDY
Every girl you'd ever want to be or know. Although she doesn't quite know it…yet. Ever since she had turned thirteen and had officially become a maiden, Pandora Atheneus Andromaeche Helena, only daughter of the titan Prometheus, was bored to tears. Well…not bored exactly…but she couldn't quite put her finger on what she was feeling. She looked skyward and saw Bellerophon, now a tiny speck, rocketing about on his magnificent winged horse. Gods, how exciting that must be! And there were other heroes, men and women, all over Greece doing wonderful, brave, death-defying things right at that very moment. Her curiosity rose inside her like steam. What would it feel like to have a sword in her hand or fly on the back of a magical animal? How she wished she could have some kind, any kind, of adventure.

Fresh white musk, honeycomb, sweet apricot, elemi, orange blossom, and mischievous pink pepper.
.purchase 5ml.
.view cart / check out.
Art by Abigail Larson.





Emmy Award-nominated actress Carolyn Hennesy dazzles as the deliciously vicious "Rosalyn Harris" on Alan Ball's critically acclaimed HBO series TRUE BLOOD.

Hennesy joined the cast for the fifth season of the sleek vampires-meet-world saga and has fast become a fan favorite. As Rosalyn, the ageless vamp with a Texas twang, Hennesy is at the top of her game. She tosses one-liners like firecrackers, occasionally enjoys a juicy stake, and gleefully partakes in old-timey interrogation.

Prior to TRUE BLOOD, Hennesy was best known for her memorable work as "Barbara Coman" on ABC's COUGAR TOWN and for an Emmy nominated run as "Diane Miller" on ABC's GENERAL HOSPITAL. Hennesy's creative endeavors also include a successful career as a writer. She created the wildly popular "Pandora" (Bloomsbury USA) children's book series as well as penned the New York Times Bestseller "The Secret Life of Damian Spinelli" (Hyperion).





BLACK PHOENIX ALCHEMY LAB, BPAL, IMP'S EARS, A LITTLE LUNACY, CARNAVAL DIABOLIQUE and all oil names are trademarks of the Black Phoenix Partnership. Illustrations on this page by Abigail Larson. All characters, locations, and scent descriptions within the Pandora series are the intellectual property of Carolyn Hennesy, and are used here with her permission. All rights reserved.