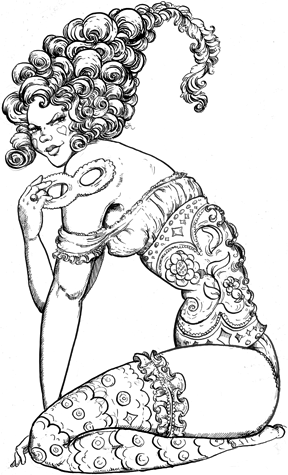 Honi Soit Qui Mal Y Pense
Shame to Him Who Evil Thinks

PERFUME OIL BLENDS
$26.00 per 5ml bottle.
Presented in an amber apothecary glass vial.
Because of the nature of this project, imps are not available for any District scents.

Black Phoenix Alchemy Lab and Black Phoenix Trading Post are proud to present a scent series representing the people, places, and culture of New Orleans' Storyville, featuring artwork by the inimitable Molly Crabapple. Black Phoenix Alchemy Lab is pandering the perfumes, and Black Phoenix Trading Post is offering District-themed atmosphere sprays and a gorgeous District tee illustrated by Molly!

Lavish bordellos and shady cribs, dazzling jazz, and swinging saloons: bounded by Basin, Iberville, Robertson, and St Louis, Storyville, known to locals as the District, was New Orleans' legal red light district from 1897 to 1917.

This is a charitable, not-for-profit venture. Proceeds from every bottle go to Habitat for Humanity: New Orleans. Habitat for Humanity builds houses in partnership with sponsors, volunteers, communities, and homeowner families, whereby families are empowered to transform their own lives, and aids in eliminating poverty housing in the New Orleans area while serving as a catalyst to make decent shelter a matter of conscience and action.

Molly Crabapple is an award winning illustrator, and the founder of Dr. Sketchy's Anti-Art School. Molly has drawn for the New York Times, Wall Street Journal, Marvel Comics, the Bloomberg Corporation, the Coagula Art Journal, and Playgirl, and she has illustrated eight books including Scarlett Takes Manhattan. She has also turned her talents to 30-foot theatrical backdrops, children's books, parade installations, burlesque posters, critically acclaimed webcomics, pornographic comic books, art writing, and gallery shows around the world. More about the lovely Miss Molly can be found through a feature on her in the Art & Design section of the New York Times.

Thank you, Molly, for inspiring this series!

http://www.mollycrabapple.com/
http://www.drsketchy.com/
http://www.habitat-nola.org/



COUNTESS WILLIE
Sophisticated, dramatic, well-traveled, glamorous, and worldly, Countess Willie V. Piazza, owner of the French Studio, was a trendsetter in style and fashion. Countess Willie was an educated woman, a patron of the arts, and possessed an impressive library of rare volumes. She featured many historic jazz musicians in her House, including Tony Jackson and Jelly Roll Morton. Unlike many of her counterparts, she was known for having a kind heart and a generous, loving nature. She was fiercely protective: when a patron of her establishment, the nephew of a prominent New Orleans cleric, committed a heinous act of sadism against one of her ladies, Countess Willie shot him dead.

Chocolate plum musk, red musk, amaretto, candied fruits, and red ginger.
.purchase 5ml.
.view cart / check out.
CRIB GIRLS
Situated on of the lowest rungs in the Red Light District's hierarchy, the crib girls solicited from their windows and doorways, entertaining their clients in sparsely furnished, dingy two-room apartments.

Seven honeys under one unkempt roof, with fiery-tart cubeb and dusty cardamom.
.purchase 5ml.
.view cart / check out.
EMMA
Better known as the "Parisian Queen of America," needs little introduction in this country.

Emma's "House of all Nations," as it is commonly called, is one place of amusement you can't very well afford to miss while in the Tenderloin District. Everything goes here. Fun is the watchword.

Business has been on such an increase at the above place of late that Mdme. Johnson had to occupy an "Annex." Emma has never less than twenty pretty women of all nations, who are clever entertainers.

Remember the name,

Emma Johnson
331 and 333 Basin Street

Vanilla bourbon, tea rose, jasmine, pink pepper, and patchouli.
.purchase 5ml.
.view cart / check out.
FLORA
Everybody in the sporting world knows Miss Flora Meeker and she knows everybody worth knowing. So it is unnecessary at this time to make any introductory remarks about Miss Meeker, suffice it to say she is still at her same old place where she has been for a number of years past, doing a boss business which deserves, Miss Flora is well thought of by all and her house is patronized by the best element. Carnival visitors should not overlook this swell mansion where the cream of female loveliness will be found which is situated at No. 211 Basin avenue.

Miss Flora Meeker's Palace of Mirth

Sweet, wet fruits, sibilant Eastern musk, apple blossom, tuberose, calla lily, osmanthus, wild orchid, amber, and sandalwood.
.SOLD OUT.
HILMA
The amiable, ebullient proprietor of the Mirror Ballroom, where Jelly Roll Morton got his first gig.

Miss Burt, while very young, is of a type that pleases most men of today - the witty, pretty, and natty - a lady of fashion.

Her managerial possibilities are phenomenal, to say the least, and her success here has proven itself beyond a doubt.

Miss Burt has been with us but a short while but has won all hearts. Her palace is second to none. It is good for one who loves the beautiful to visit Miss Burt's handsome palace. There are no words for the ladies - one can only realize the grandeur of feminine beauty and artistic settings after an hour or so in the palace of Hilma Burt.

Miss Burt, aside from having two handsome homes here, has one in St. Louis and one in Kansas City, Mo., where, it is said, she is as popular as in New Orleans.

Don't forget to converse with her, as she is very clever, jolly, and cultured.

205 N. Basin

Honeysuckle, Bulgarian rose, night blooming jasmine, sweet clove, cedarwood, black tea, and nectarine.
.purchase 5ml.
.view cart / check out.
JOSIE
The brooding, raucous, and hot-blooded proprietress of the Château Lobrano d'Arlington, the gaudiest bordello in the District. Miss Josie had a true talent for hype, and promoted her ladies in an effusively romanticized, over-the-top fashion. La Belle Stewart, who was in actuality a circus hoochie koochie girl from Chicago, was billed as "a bona-fide baroness, direct from the court of St. Petersburg."

Heady magnolia and honeyed peaches.
.purchase 5ml.
.view cart / check out.
LULU
The Diamond Queen. An expert showman and entrepreneur, the eccentric Miss Lulu was the Mistress of Mahogany Hall until 1917. She invested heavily, but not always successfully, and at the end of her career as a madam, wanted to fund production houses for the budding movie industry in California.

The 1934 Mae West film, "the Belle of the Nineties", was loosely based on Lulu's exploits.

Tobacco flower, white gardenia, bergamot, and bourbon geranium.
.purchase 5ml.
.view cart / check out.