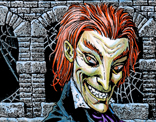 MR. CROUP
'A fox and a wolf', thought Richard, involuntarily. The man in front, the fox, was a little shorter than Richard. He had lank, greasy hair, of an unlikely orange color, and a pallid complexion; as Richard opened the door, he smiled, widely, and just a fraction too late, with teeth that looked like an accident in a graveyard.

Pompous and predatory: tonka bean, black musk, bourbon geranium, and crushed porcelain.
.purchase 5ml.
.view cart / check out.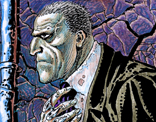 MR. VANDEMAR
The second of the visitors, a tall man, the one he had thought of as a wolf, his gray and black hair cut bristle-short, stood a little behind his friend, holding a stack of photocopies to his chest. He had said nothing until this moment—just waited, huge and impassive. Now he laughed, once, low and dirtily. There was something unhealthy about that laugh.

Dark and gangly, with a glint of razor-sharp stainless steel behind it: opopponax, costus, black pepper, black sandalwood, and polished metal.
.purchase 5ml.
.view cart / check out.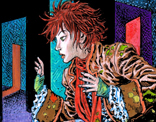 DOOR
She was dressed in a variety of clothes thrown over each other: odd clothes, dirty velvets, muddy lace, rips and holes through which other layers and styles could be seen. She looked, Richard thought, as if she'd done a midnight raid on the History of Fashion section of the Victoria and Albert Museum, and was still wearing everything she had taken. Her short hair was filthy, but looked like it might have been a dark reddish color under the dirt.

Golden honey, nicotiana, blue chamomile, and cistus.
.purchase 5ml.
.view cart / check out.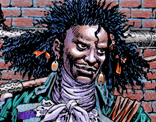 THE MARQUIS de CARABAS
He wore a huge dandyish black coat that was not quite a frock coat nor exactly a trench coat, and high black boots, and, beneath his coat, raggedy clothes. His eyes burned white in an extremely dark face. And he grinned whie teeth, momentarily, as if at a private joke of his own, and bowed to Richard, and said, "De Carabas, at your service, and you are…?"

A splash of bay rum, leather, dusty black wool, massoia bark, and opium residue.
.purchase 5ml.
.view cart / check out.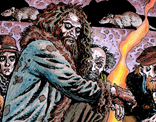 THE RAT SPEAKERS
For a moment, Richard was blinded by the sudden light. He was standing in a huge, vaulted room, and underground hall, filled with firelight and smoke. Small fires burned around the room. Shadowy people stood by the flames, roasting small animals on spits. People scurried from fire to fire. It reminded him of hell—or rather, the way that he had thought of Hell as a schoolboy. The smoke irritated his lungs, and he coughed. A hundred eyes turned, then, and stared at him; a hundred eyes, unblinking and unfriendly.

A snuffling, brown scent: earthy patchouli, sage, russet sandalwood, grimy leather, fig leaf, and lemongrass.
.purchase 5ml.
.view cart / check out.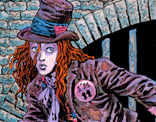 ANESTHESIA
'Ratty!' said the girl in something between a squeak and a horrified swallow. She had a large, water-stained red button pinned to her ragged clothes, the kind that comes attached to birthday cards. It said, in yellow letters, I AM 11.

A scent that slips through the cracks: peppermint, lavender, bergamot, and mandrake.
.purchase 5ml.
.view cart / check out.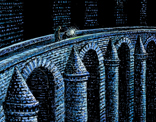 NIGHT'S BRIDGE
And then they turned a corner, and saw the bridge. It could have been one of the bridges over the Thames, five hundred years ago, thought Richard; a huge stone bridge spanning out over a vast black chasm, into the night. But there was no sky above it, no water below. It rose into darkness.

Stone and darkness.
.purchase 5ml.
.view cart / check out.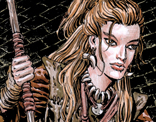 HUNTER
He turned, and standing there was a tall woman, with long, tawny hair, and skin the color of burnt caramel. She wore dappled leather clothes, mottled in shades of gray and brown. She had a battered leather duffel bag over her shoulder. She was carrying a staff, and she had a knife at her belt and an electric flashlight strapped to her wrist. She was also, without question, the most beautiful woman that Richard had ever seen.

Leonine amber, tanned hides, clove, and clary sage.
.purchase 5ml.
.view cart / check out.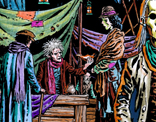 THE FLOATING MARKET
It was loud, and brash, and insane, and it was, in many ways, quite wonderful. People argued, haggled, shouted, sang. They hawked and touted their wares, and loudly declaimed the superiority of their merchandise. Music was playing—a dozen different kinds of music, being played a dozen different ways on a score of different instruments, most of them improvised, improved, improbable. Richard could smell food. All kinds of food—the smells of curries and spices seemed to predominate, with, beneath them, the smells of grilling meats and mushrooms. Stalls had been set up all throughout the shop, next to or even on, counters that, during the day, had sold perfume, or watches, or amber, or silk scarves.

A cacophony of curious scents: copaiba balsam, petitgrain, citrus rind, sinicuichi accord, betel nut, wasabi root, coconut palm, and wattleseed layered atop innumerable strange herbs, spices, and woods.
.purchase 5ml.
.view cart / check out.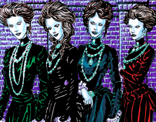 THE VELVETS
Five almost identically dressed, pale young women walked past him. They wore long dresses made of velvet, each dress as dark as night, one each of dark green, dark chocolate, royal blue, dark blood, and pure black. Each woman had black hair and wore silver jewelry; each was perfectly coifed, perfectly made up. They moved silently: Richard was only aware of a swish of heavy velvet as they went past, a swish that sounded almost like a sigh.

Smooth inky musk, cathedral incense, ylang ylang, violet leaf, rose-infused amber, red sandalwood, and iris.
.purchase 5ml.
.view cart / check out.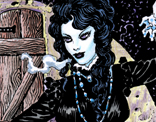 LAMIA
'And you said you'd pay me for being your guide. And it's what I want, as my payment. Warmth. Can I have some?' Anything she wanted. Anything. The honeysuckle and the lily of the valley wrapped around him, and his eyes saw nothing but her pale skin and her dark plum-bloom lips and her jet black hair.

Deadly elegance: pale orchid, vanilla amber, black currant, white peach, champaca, coconut, Arabian myrrh, Burmese vetiver, and oude.
.purchase 5ml.
.view cart / check out.
BLACK PHOENIX ALCHEMY LAB, BPAL, IMP'S EARS, A LITTLE LUNACY, CARNAVAL DIABOLIQUE and all oil names are trademarks of the Black Phoenix Partnership. Illustration on this page by Enrique Alacatena. All characters, locations, and scent descriptions within the Graveyard Book series are the intellectual property of Neil Gaiman, and are used here with his permission. All rights reserved.